About The Pink Room

The Pink Room – a fantasy lifestyle boudoir – debuted in London's Notting Hill in 1997. It soon attracted a wide audience, glowing press comment and a visit by Anne, HRH The Princess Royal. It won The Draper's Record award for new small shop and became a centre for fashion cognoscenti and stylists who featured many of Sarah Barton-King's designs in their own style books. The Pink Room was a buzzing environment where she created and sold top quality silks, bags, shoes and accessories, some furniture, rugs, wallpaper – and definitely - dreams.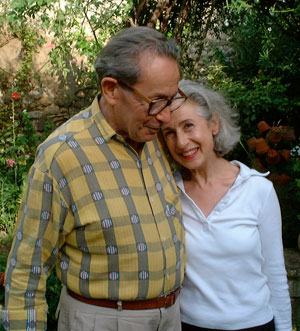 Guy Robert with Sarah Barton-King
However, there was something missing and she soon realized what it was! The Pink Room Parfum Number 1 was then created with the wonderful Guy Robert as mentor, guide and friend.
It was an eidetic experience of the textures, colours and ambience of The Pink room. Having produced Number 1, it became clear to Sarah where her senses were leading her, in a very niche and special way.
The Pink Room now has three fragrances, all with a high concentration of perfume essence, with related natural and organic products. More to come!